It took me nine years from the start of my career to go from Junior Copywriter to Creative Director. In this piece I'll give you the benefit of my experience, and some of the writing tips and brainstorming strategies I learned along the way.
Let's go.
What is a creative director?
First things first, what is a creative director?
A creative director oversees the creative process to achieve the best possible result. Creative directors are crucial in entertainment, marketing and advertising, as well as product design and development.
As the number of digital media industries continues to expand, new creative director job tiles are being created all the time.
Any job where there is a significant creative output typically requires a creative director.
What does a creative director do?
In simple terms, a creative director guides a team of creatives to fulfil a creative brief.
These creatives can include writers, motion graphics designers, digital media specialists, art directors, illustrators, sound mixers and many more.
The role of creative director is the culmination of years of experience, picking up enough different skillsets to be able to advise on different areas.
In a simple example, such as a print advertisement, the creative director will work with copywriters and art directors to advise on the creative process along the way and achieve the best result.
Which industries hire creative directors?
Marketing and advertising are two big ones.
Increasingly, there are creative directors in almost all digital media industries.
These include film, gaming, product development, web development, app design, theatre, media and software development!
The role and skillset will vary wildly, depending on the industry.
This is because to become a creative director, you have to demonstrate good experience and creative judgement.
This means that the starting point is typically found in one of the major roles that your industry requires.
To give you an example, the two biggest roles in advertising are copywriting and design (which progresses to art direction).
Agencies traditionally employed copywriter and art director teams to work on briefs together.
Therefore, in advertising, there are two traditional routes to becoming a creative director:
The copywriter route (mine!)
The designer route
Which route should you follow?
I became a creative director following the copywriter route, which is the less common of the two.
This is because design is often 'seen' as more creative due to the fact humans are so visual!
It's also because designers tend to outnumber copywriters in agencies by about a 3:1 ratio.
In the next section I'll go into your starting point in more detail. Right now, all I will say is that you can become a creative director from almost any creative position. You just need to plan your unique roadmap.
How to become a creative director
Here's my career journey:
Junior Copywriter
Midweight Copywriter
Freelance Senior Copywriter
Head of Copy
Creative director.
This is definitely not the most direct route, but everyone's journey will be different.
This is truer now than ever before, due to the fact industries are transforming at break-neck speed.
If you watched Mad Men which is set in the 60s, you'd be forgiven for thinking there was pretty much one path to the top. That was true then, but certainly isn't anymore.
The old agency model is under strain, while remote working and the gig economy (freelancing) are increasing at speed.
Linear career paths might just be a thing of the past.
On the flipside, this makes achieving a position as a creative director more obtainable than ever before.
Here's my advice.
1. Pick a niche
Ultimately, you need to work in an area that interests and excites you. I always loved writing, and discovered that short-form ad copy was something I excelled at.
This was perfect for advertising, where I got to work on a diverse number of clients.
However, some creative director jobs are more tailored to a specific niche, such as fashion, software products or lifestyle magazines.
How to become a creative director in advertising
This is the route I took.
As a creative director in advertising, you'll have likely demonstrated some key skills in discplines like design, videography or copywriting.
Arguably even more important is your ability to communicate your thoughts and ideas clearly to your team. Being a creative director in advertising isn't about being the best at drawing, or writing. It's about seeing the bigger picture and being able to really understand a client brief.
As a creative director, you'll likely have a significant amount of contact with the client, so your relationship building skills will be important.
Top tip: Be proactive with your creative thinking, even if you're still only a junior. It will get noticed. Then, focus on building great relationships with your clients and colleagues – these skills will serve you well.
How to become a creative director in film
Creative directors in film are typically referred to by different titles, such as production creative lead, or production designer.
This role requires a cinematic vision. While it's possible to get there from an art director role, creative directors in film tend to grow from videographers, or have some other motion graphics skillset.
This role requires a knowledge of the filming process – and a vision to match. You'll need to know about set design, camera angles, lighting and props.
Top tip: Be open and flexible to ANY role you can get on set, early in your career. Creative directors in film can come from anywhere, and the knowledge you'll gain from first-hand experience will be invaluable.
How to become creative director in fashion
Creative directors in fashion give designers direction about an overall theme or idea they are trying to convey.
This might be to fit in with a brand style, or a particular line of clothing.
This isn't such a technical job, but does require significant knowledge of audience demographics and customer behaviours.
To be a creative director in fashion, you'll also benefit from some knowledge of marketing and influencers, as they are a primary method for brands to get their clothing on display.
Top tip: Have an overall big vision and learn everything you can about your target market. That knowledge will get recognised and rewarded when you hold junior positions, and help you get the promotions you need to become a fashion CD.
2. Find yourself a great mentor
The most important piece of advice I can give you is to find a good mentor.
It's impossible to reach your potential unless you have real talent to learn from.
If you're currently in a junior position, then find the most talented creative in your company and do everything you can to work on the same projects as them.
See how they brainstorm, how they feed back their ideas, and how they approach a brief.
Top tip: If you're really ambitious and you find yourself at an agency or in a company with no decent creatives to learn from then I suggest you leave.
I'm serious about that.
In my early career I was paid a terrible salary, and the clients weren't that interesting, but I was lucky enough to have a brilliant creative director. This made staying at the company for three years time very well spent.
3. Don't give up if you haven't got the right qualifications
I'll be honest.
I believe that in your pursuit to become a creative director, qualifications aren't that important.
Don't get me wrong, they are helpful.
But this is definitely not the same story as a doctor, or lawyer, where your education is make-or-break.
How to become a creative director without a degree
I've seen people become creative directors by starting as production runners, or junior artworkers.
It's all about working your way up through a company and impressing the right people along the way.
Top tip: If you haven't got the right qualifications, you might just have to start a little lower. Experience is a perfect substitution for your lack of a degree, so get as much early exposure as possible. If you impress on a few early briefs, then nobody will care whether you went to university.
What degree do you need to become a creative director?
If you do have a degree, then that's great – I would never discourage it.
The degree you choose really depends on which field you want to become a CD in.
My degree is in Linguistics. It helped me get a job as a Junior Copywriter. From there, I was able to impress the creative directors I worked for and continue getting promoted.
I believe a degree in design, english language or media would have worked just as well.
If you opt for a more technical discipline like gaming, then you might even choose to study for a degree in graphic illustration, programming, or computer science.
As long as your degree is a route into an ad agency, studio or fashion house then it will have served its purpose.
I can't emphasise this next point enough. Work as hard as you can when you get a job. That's where you'll get noticed and start climbing the ladder.
4. Don't be scared of a bad idea
Some of us have one good idea in 100.
Others manage closer to a one in three ratio.
It really doesn't matter as long as there are good ideas in there somewhere.
Nobody is capable of only having good ideas. If that's what you're aiming for then what you're saying is that you've never taken a risk – or never had an original idea!
Great creativity is about making mistakes. It's about screwing up multiple times.
Being a creative director, your job is often to sift through a lot of bad ideas to find a good one.
That's why you need to encourage your team to have as many ideas as possible. To take risks, make errors and risk being laughed at.
The worst type of creative room to sit in is where everyone is too scared to speak up. As an aspiring creative director you need to speak up often and encourage others to do the same.
5. Study the creative director job description
One of the biggest mistakes I've saw in my 10+ years of advertising is people being too protective over an idea they'd had.
'That's my idea'.
While this attitude might get you a little credit on the spot, it's a long, long way away from the creative director job description.
As a creative director, your job is to elevate others and get the best out of your team. It's to build people's confidence, and point them in the right direction. The idea is all that matters – not who came up with it.
It's something to think about for any aspiring creative director holding more junior positions. Your bosses know that part of the creative director job description is to get the best from others.
So don't withhold credit. Give generously, elevate others and that skillset will be more valuable in the long run that any sense of possessiveness about your own concepts.
6. Know when to dig in & when to back off
Dan Wieden is listed in Forbes' top 10 creative directors ever.
He co-founded Wieden+Kennedy, which famously ripped up the rulebook in favour of a brave new world of advertising.
Part of their ethos is to stand up to clients, and to refuse to compromise on their creative quality.
'We will bend over backward, we will not bend over forward'.

Dan Wieden
Having the confidence to stick to your guns is crucial mindset for a creative director.
7. Read great books
You'll notice that a few of my tips in this piece are about learning.
I've already stressed how important it is to find a great mentor.
It's also crucial in your journey to become a creative director that you read as much as you can.
Two of my favourite books are:
It's Not How Good You Are, It's How Good to Want to Be, written by Paul Arden.
This is an absolutely brilliant book about the game-changing power of our beliefs and the fact that we really do write our own stories.
It's such a short, simple book, that can almost fit in your pocket. But the headlines and the power of what he says will always be true for anyone who wants to become a creative director.
The Brand Gap by Marty Neumeier
As a creative director, if you don't understand the power of brand, you might as well go home.
I haven't read anything better than this book to explain what a brand is, and how to build one.
It's highly visual and makes everything just seem that little bit clearer.
You'll be quoting this one in meetings for years.
8. Brush up your soft skills
Yes, you might be a great designer.
You might have a brilliant turn of phrase.
But can you motivate people? Can you communicate idea? Can you get people excited about a concept?
If you haven't got the soft skills to match your knowledge, then start building it now. The best creative directors are also part psychologists, teachers and motivators!
9. Create a career roadmap
I'm going to share with you a little career tactic that I call big-small-big-small.
It's a practical tip that will genuinely accelerate your journey to the very top.
What is the big-small technique?
I've made this term up to describe the journey of someone that moves from a big company, to a small company, and then back again.
Rinse and repeat.
Let me explain how it works.
You start in a very junior position at a big company. They don't have to be huge but they are a 'name' in your industry.
So in advertising, imagine accepting the most junior position possible at a company like Ogilvy. Yes you'll probably be paid poorly, and your job title might be junior copywriter.
Then you can use that name on your resume to join a smaller company but get a bigger title, like midweight copywriter.
Then you make the next leap, and this time you join a bigger agency. Nobody expects you to accept a lower title, so you'll either be a mid-weight or senior copywriter.
Now, say you're a senior copywriter at a well-known agency.
Your next move can be back down to a small boutique-stye agency, but your credibility as a senior copywriter at a big agency could be worth a title like creative director!
You've done it!
One rule doesn't fit all
Now, I've simplified that journey a lot, you might be promoted several times at a company for instance. However, the principles are sound. Use the credibility from big companies and the bigger job titles you get at smaller companies to accelerate your journey to the top.
Of course, the best thing about this technique is being able to gain different experiences at both large and small agencies, so you can see how it all works and which you prefer.
I prefer smaller agencies because of their agility and flexibility. But some like the efficiency and systems of large companies.
10. Build a network
In creative director circles, you'd be surprised at how often you encounter the same people.
You will likely be hired by the same person more than once in your career.
The best thing you can do is build a network of people you love working with, and people who you look up to.
Contribute to industry discussions on platforms like Linkedin and build your personal brand that way.
It's a cliche to say it's all about who you know… but that's not to say there isn't some truth in it.
Art director vs creative director
There seems to be some confusion around the terms art director and creative director.
Art director is a more junior position. Art directors have often started off as designers, and end up as creative directors.
If you become an art director and your aim is to be a creative director then you're doing a great job – you're almost there!
What salary does a creative director earn?
This is a frequently asked question.
Sadly there isn't a definitive answer, because it varies hugely depending on your industry and country.
However, creative director is a highly-sought after job that earns far higher than each country's average wage.
Here's a graph that gives you an idea about creative director salaries in the US:
And here's one from the UK: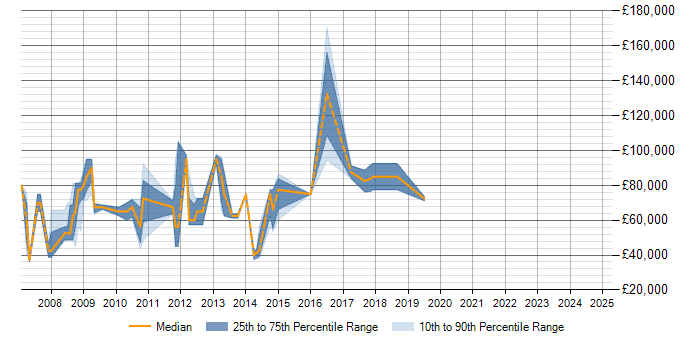 What is an executive creative director?
After you become a creative director, there is still room for your career to grow.
An executive creative director oversees the entire creative department.
They often present to shareholders, and sign off on large campaigns.
Executive creative directors are often in charge of creative budgets, which they can use to hire people, invest in resources, enter awards, build products and assemble their team.
How to become a creative director: final thoughts
I read a lot of articles when I was writing this piece, and I disagreed with a lot of them.
I do have a degree, but I have never actually needed it to pursue the route I have taken.
As companies gradually become the new educators, a degree will become less important, not more.
Many of the pieces I read also went further, by recommending a Master's degree in addition to a Bachelor's degree. This thinking really concerns me because I think it's limiting.
Of course, a degree is an advantage. But the defining factor of your success won't be on what you learned between the ages of 18-21. It will be your performance on the job.
You could have a Master's degree, but on your first day you will be overtaken in the minds of your colleagues and management by someone who is more proactive, more curious and more ambitious than you are.
Instead, I prefer to advocate a route that is open to all, because I've seen people from obscure junior positions progress to creative director level with the right mindset and approach.
Furthermore, I would also add that creativity is only one key attribute that you need, along with work ethic and people skills.
If you follow the 10 steps I've laid out and believe in yourself, then nothing will stop you.
Good luck! Feel free to ask me anything and let me know how you get on!