What is digital media? We'll go through the definition of digital media – and the best ways to land digital media jobs from copywriter to creative director.
Firstly, to define digital media we need to split up the words.
Digital means any data that is represented with a series of digits (0-1).
Media means any type of broadcasting or communication.
Together, digital media means broadcasting or communicating using a digital device.
In simple terms, this means that any communication through a screen can be defined as digital media, including phones, TVs, the internet, digital advertising billboards.
What is digital media definition?
Since digital media can refer to any information communicated through a screen, the definition is fairly wide. It's an umbrella term that has been created to group together multiple types of media.
This also means there are many, many different types of digital media – including audio, video, photography, text and graphics.
Since social media is communicated through a screen, it is defined as a type of digital media. So is building websites. And so is YouTube video production.
The list goes on and on.
Any content that is created, stored, edited or accessed in digital form can fall under the umbrella of digital media.
The official digital media definition
How to get digital media jobs
Since we've established that digital media is such a broad term – digital media jobs is even broader.
I'm going to show you the most popular and lucrative jobs and how to get them. As a digital professional, you could work in any of the following:
Film production
TV
Radio
Digital illustration
Marketing
Social media
Advertising
Digital design
Retouching
Motion graphics
SEO
Web design and experience
Digital copywriting
And many, many more.
The roles I've listed above are very much creatively focused.
You'll find that there are multiple ways in to any of these roles.
There is no one-size fits all approach. However, there are many things you can do to give yourself the best possible chance.
1. Apply for digital media internships
Internships or apprenticeships are a great way into the digital industry.
Depending on which type of qualification you're striving for, you'll train for around 1-4 years, and will work and study part time.
What you can do with your internship
Earn a salary and work towards recognized qualifications
Gain practical experience and build a network
Learn from mentors and leaders in your area
The right training for your position and skillset
2. Study for a digital media degree
The value of achieving a digital media degree cannot be understated.
Understanding how the media works, or improving your technical knowledge sets you up perfectly for the next chapter of your life.
Most universities offer digital media degree courses. It's a good idea to compare them, so you can find exactly the specialism you're looking for.
Finding a digital media degree
In the UK, the whatuni website helps you get personalised lists of the right courses to apply for.
3. Put together a portfolio or resume
To get opportunities, you don't necessarily need experience in the sector.
If you're after a creative or marketing job, you can easily do proactive work to show off to future employers.
For example, if you were a after a digital design job, you could try redesigning a brand's website, or social media assets, or put together some proactive wireframes about how you'd change their UX.
Behance is a great resource for seeing how others lay out their work and create portfolio assets that show off their talents.
Writing your resume
When writing a resume, you'll need to highlight your knowledge, even if it hasn't been gained in the workplace.
If you lack experience then try volunteering with a small company to help with their social media accounts, or to be a production runner, or digital assistant. Most companies will offer you a little money for your work.
When I began my career I volunteered at a digital production house for four hours a week.
It was great to meet a few people and have a line to put on my resume or CV that elevated me above the competition.
4. Research digital media companies
One of the best things you can do when starting out is to go on the careers pages of digital media companies and see what they're looking for in their talent and recruitment.
Many of these companies are primarily concerned with getting the right personalities, such as people who can collaborate with others and work as part of a team.
Write down what some of the biggest companies say on their career pages and consider their advice when you reach out to them.
Getting published on digital platforms
Better still is getting your thoughts, knowledge or opinions published by a digital media company. You can try something like medium which gives you the opportunity to write your own articles for wider distribution.
To read about digital media companies more widely, try sites like builtin.com, which list out digital media companies and tech jobs:
Alternatively you can just head to some of the biggest names in digital that you already know.
Popular digital media companies:
Apple
Google
Fiverr
Pinterest
Freelancer
WordPress
Uber
5. Research digital media salaries
No matter what your skillset, you'll want room to grow in your role. Looking through different jobs and seeing what their salaries expectations are is beneficial to know.
It will also make sure you don't get underpaid for your job relative to the people who work in a similar role to you.
Digital media salaries will vary hugely from country to country.
Here's a chart from the UK showing the wide range of salaries, as well as the median.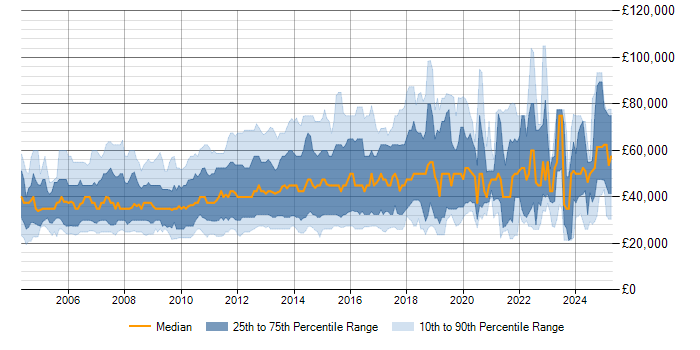 Digital marketing jobs fall under the digital media umbrella.
A number of lucrative digital marketing jobs have excellent potential for salary growth.
6. Continue your digital media studies
Even when you land a job, the best thing you can do is to continue learning.
Digital media is one of the fastest-growing sectors out there. The opportunities change every day.
Technology moves so fast that if you don't continue learning then you won't be able to take advantage of the incredible potential.
Keeping your digital media knowledge updated
Using social media marketing as an example, you have to keep updating your knowledge on a continuous basis as the biggest platforms are always adapting, updating and shifting their products, with new functionality.
Being able to talk about the new ways to market content to customers makes sure that you're always employable.
Platforms like Udemy offer great courses to help you keep your skills up to date.
7. Show you're a digital media specialist
Digital media is one of those industries where you don't necessarily need to prove your credentials on paper.
Instead, you need to show them.
Whether you're a digital designer putting together a portfolio, or a motion graphics expert creating a demo, or even someone who aspires to work in digital marketing, there are many, many things you can do proactively.
One of the main ones is getting your own social media up to scratch.
Having a strong social media presence
Optimize your Linkedin profile.
Be active on Instagram.
Create a YouTube channel to share your knowledge.
Post more often on Twitter.
When you come for an interview, having a strong digital footprint will make you a more attractive proposition to companies.
If you don't have an interview lined up or haven't landed a job quite yet, then building your personal online brand becomes even more important.
8. Don't limit yourself to technical jobs
When getting a job, you might just think about technical knowledge, or digital-related titles.
However, to avoid limit yourself, think about all the varied and exciting jobs around a specific role.
For example, someone may dream of making it as a professional footballer. But even if this proves beyond that person, there are so many other great ways for them to be involved in the football industry – like as a trainer, a physio, a HR specialist, an accountant.
The same is true in digital. You might dream of being a gaming coder but struggle to get the opportunity. However, you can still be involved in gaming by being a storyteller, a scriptwriter, a graphics specialist, a music composer, a legal expert, a marketing pro…
If you set out to ensure that you're multi-skilled and can be part of a team, then you'll stand a great chance of getting the jobs you're after.
9. Work really hard
There are no shortcuts here I'm afraid.
The digital industry is extremely competitive, and filled with very talented people.
Believe me, if you work really hard to learn, improve, innovate and keep trying – you WILL get a job in your chosen sector.
But you have to work hard and work smart. Try different things, build your personal brand.
You will get to where you want to be.
10. Dream big and find your purpose
In such a fast-transforming industry, you really do have the chance to be at the forefront of global change.
Having tech skills and digital knowledge makes you extremely employable – and always will.
But it also gives you the opportunity to build something even bigger. Maybe you'll come up with a new digital product, or perhaps you'll transform people's lives through the projects you oversee.
There are thousands of digital jobs that are changing the world and helping people fulfil their purpose.
Whether it's in solar energy, renewables, green initiatives or increasing everyone's access to education, being in digital is a chance to make a real impact.
What are other jobs available in digital media?
If you don't want to go down the creative route, here are some options:
Junior production runner
Mid-weight broadcast assistant
Digital social media assistant
Production secretary
Junior production manager
Social media consultant
Digital strategist
Digital account manager
Social media community manager
What is life like in digital media?
Speaking from experience, life in the digital industry can be flexible, rewarding and really creative.
Digital media careers tend to have a simple aim – to bring enjoyable, informative content into people's homes.
You can push the boundaries of technology, and it's one of the fastest-growing sectors because of every brand's desire to push out high-quality content on an almost daily basis.
It's also incredibly rewarding seeing your work come to life with a real-world application. Whether it's creating a game, designing a website, working on a film or marketing a product – you'll feel a real sense of satisfaction when you reach targets or goals that you've set yourself.
Final thoughts
Getting jobs in 'careers of the future' is a brilliant chance to shape world.
You can be at the forefront of change. You'll be able to evolve and develop your own career. You can innovate and be creative every day.
To get there, you have to be proactive and take real steps to achieve your potential.
Here is a recap of my top tips for a digital career: